By: Fredrick Gyan-Mante
Division Two Middle League – Allies drawn in a balanced Group B
Inter Allies have reached the Volta Region Division Two Middle League Playoffs and are in a balanced group containing Dynamo FC, Kopeyia United FC, andYadzo Oti Warriors.
A group headed up by the former Premier League side promises a fierce battle for a place in the final, as Group B games commence on Sunday.
Eight teams have been placed in two groups, A and B, with Inter Allies placed in Group B. The winners of each group will meet in the final on the 25th of June for the Division One League ticket.
The Playoffs will start on Saturday, 17th June, 2023, with Group A matches at the Ho Sports Stadium while Inter Allies and the other Group B teams will kick start on Sunday.
The Eleven Is To One lads to walked through to the middl league with a 100 percent win record in the sub-middle league.
They defeated Manya Red Lions 2-0, Yingor FC 3-0 and Bebeto FC 1-0 at the Sogakope WAFA Park last week.
Group A
1. Home Stars FC
2. Burning Stars FC
3. ILead SC
4. Bebeto FC
Group B
1. Inter Allies FC
2. Dynamo FC
3. Kopeyia United FC
4. Yadzo Oti Warriors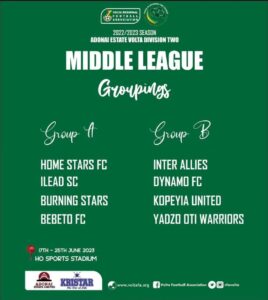 Leave a Reply